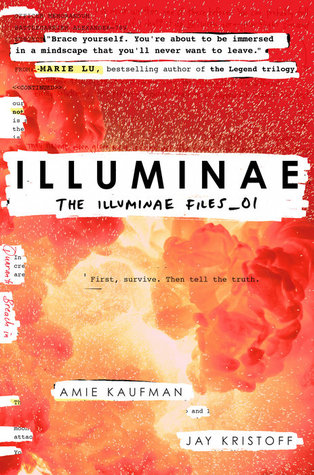 Illuminae – Amie Kaufman & Jay Kristoff
Series: The Illuminae Files
Publication Date: October 20th, 2015
Genre(s): YA Science Fiction, Fantasy, Mystery
Format Read: Hardcover (599 pages)
Rating: ★★★☆☆ (3.5/5)
Goodreads Link

This morning, Kady thought breaking up with Ezra was the hardest thing she'd have to do.
This afternoon, her planet was invaded.
The year is 2575, and two rival megacorporations are at war over a planet that's little more than an ice-covered speck at the edge of the universe. Too bad nobody thought to warn the people living on it. With enemy fire raining down on them, Kady and Ezra—who are barely even talking to each other—are forced to fight their way onto an evacuating fleet, with an enemy warship in hot pursuit.
But their problems are just getting started. A deadly plague has broken out and is mutating, with terrifying results; the fleet's AI, which should be protecting them, may actually be their enemy; and nobody in charge will say what's really going on. As Kady hacks into a tangled web of data to find the truth, it's clear only one person can help her bring it all to light: the ex-boyfriend she swore she'd never speak to again.
Told through a fascinating dossier of hacked documents—including emails, schematics, military files, IMs, medical reports, interviews, and more—Illuminae is the first book in a heart-stopping, high-octane trilogy about lives interrupted, the price of truth, and the courage of everyday heroes.


Illuminae is in fact just as unique as everyone says, but more so in the sense of its formating then anything else. The fact that this novel was told through hacked documents was really what made it work for me, if it had been formated like a traditional novel it would not have worked nearly as well. This book was super actioned pack which was both a pro and con. I really enjoy when a book is full of action because it keeps me interested in the story but Illuminae almost had too much going on all at the same time which made it a little hard to follow. Luckily by the end of the book all of the confusion had pretty much been straightened out.
My major problem with this novel was the fact that the characters felt a little to flat to me. Kady came off a little arrogant which overpowered the fact that she was supposed to be a strong kick-ass female lead. The relationship between Kady and Era, her ex-boyfriend, came of a little superficial because we never got enough background information to really fall in love with the thought of them as a couple. With the fact that their world had been attacked other than each other everyone else they were close to were either dead or of unknown status you would think they would work together instead of having petty little arguments. The final focus character was AIDAN, the AI aboard Battlecarrier Alexander. Words cannot even begin to describe how confusing AIDAN in general made the story. I mean I get it, a CRAZY AI is a real big concern for people but this AI went above and beyond normal AI crazy and went on to Skynet level crazy scary. That would have been fine but then we have an AI trying to figure out the meaning of its existence… This was a seriously unneeded addition to the already over confusing book.
I really wanted to be in love with this book and while I did enjoy it for the most part the flat characters and overly action packed novel was just too much. I really and truly believe that the hype and the fact that it is not a very common style of formatting have been the key players in this books success so far. It's never a good thing when I, as a reader, feel like this book would have been a flop if it was classically formatted. Even though I wanted much more from this book I will probably still read the next book in the trilogy to see if the authors fix some of what the flaws that were presented in this book but I now know better than to purchase a copy of the next book and will wait until it is available at my local library to read it.

Amie Kaufman is the New York Times bestselling co-author of Illuminae (with Jay Kristoff) and These Broken Stars, This Shattered World, and Their Fractured Light (with Meagan Spooner.) She writes science fiction and fantasy for teens, and her favourite procrastination techniques involve chocolate, baking, sailing, excellent books and TV, plotting and executing overseas travel, and napping.
She lives in Melbourne, Australia with her husband, their rescue dog, and her considerable library. She is represented by Tracey Adams of Adams Literary.
Jay Kristoff is the New York Times and internationally bestselling author of THE LOTUS WAR, THE ILLUMINAE FILES and THE NEVERNIGHT CHRONICLE. He is a winner of multiple Aurealis Awards, nominee for the David Gemmell Morningstar and Legend awards, named multiple times in the Kirkus and Amazon Best Teen Books list and published in over twenty-five countries, most of which he has never visited. Being the holder of an arts degree, he has no education to speak of. He is 6'7 and has approximately 13030 days to live. He abides in Melbourne with his secret agent kung-fu assassin wife, and the world's laziest Jack Russell.
He does not believe in happy endings.
Amie Kaufman
Website
Facebook
Instagram
Twitter
Tumblr
Goodreads
Jay Kristoff
Website
Facebook
Instagram
Twitter
Goodreads